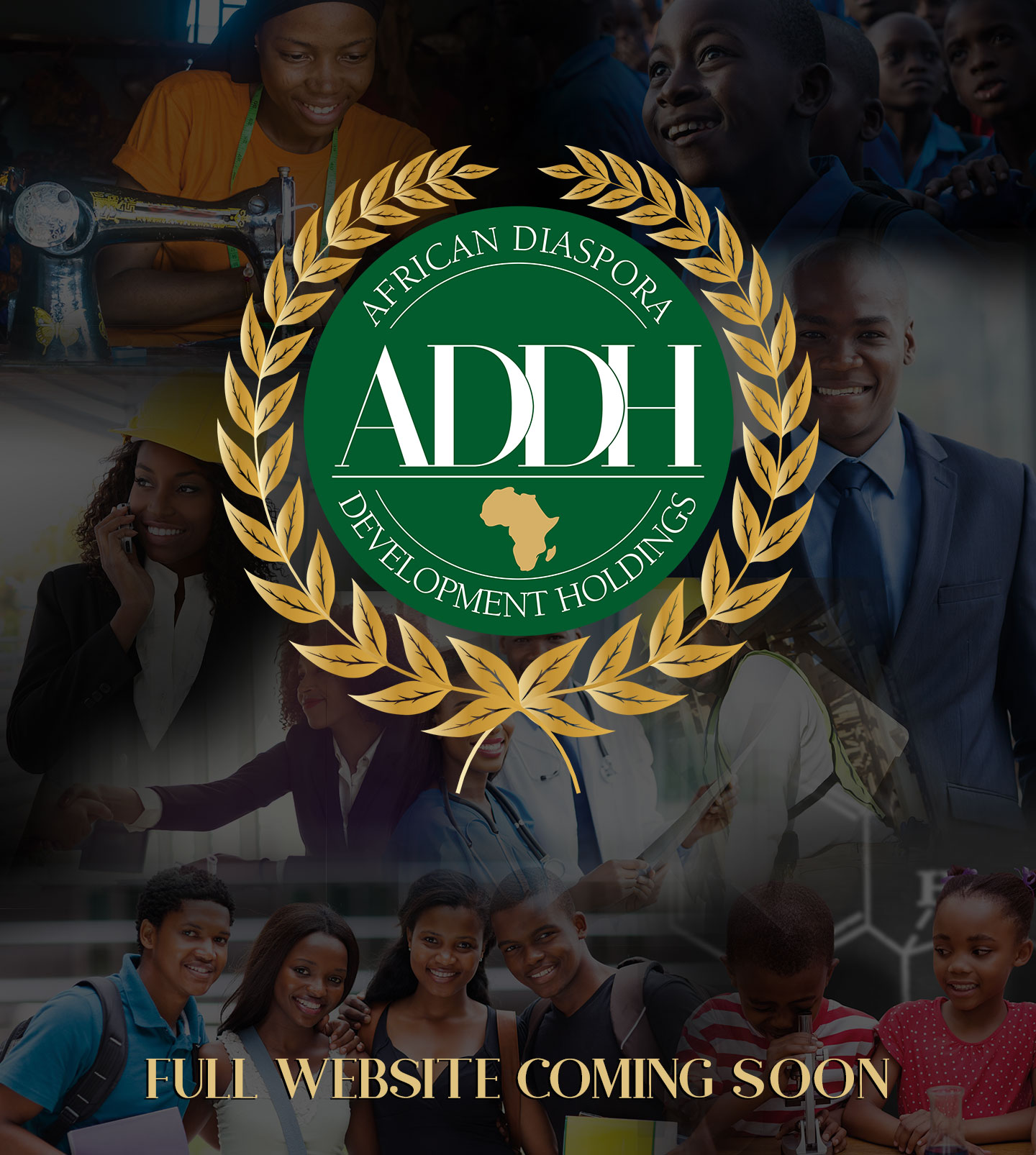 ADDH
ADDH is the holding company for African diaspora investment clubs.
---
ABOUT ADDH
African Diaspora Development Holdings (ADDH) is the bridge between the African diaspora and Africa.
---
ADDH MISSION
To create an enabling environment for African Diaspora to invest in specific projects in Africa.
To Identify and simplify the process of the Diaspora investing in Africa.
To identify investment opportunities and package them for potential investors.
To create an investment club for each identified opportunity.
---
WHO ARE THE AFRICAN DIASPORA?
All people of African descent living outside of Africa are the African diaspora.
ADDH History
At independence, African countries were given limited political independence but denied financial independence. This status quo has persisted to this day. This is no longer sustainable. Our youth are now awake and they are demanding control of their Africa. They are no longer satisfied with having a job.
For far too long, Africans have been reduced to be happy as employees. Our Colonial education was designed to turn out workers not business owners. This mindset has got to change. What is limiting true sustainable change coming to Africa are the restrictive colonial financial structures and policies that make it very difficult for not only African countries but also individuals to access funds.
This is where we come in as African Diaspora. We have the expertise and financial means to change our Africa. All that is needed is our UNITY. Unity of purpose. This is what ADDH is hoping to accomplish.
ADDH Plan
Reach out to African governments and request first right of refusal of all International contracts
Identify a local private sector partner in the country where the opportunity is. Their role will be to identify projects as well as clear any obstacles that may arise
Identify the opportunities according to sectors
Create investment club for each opportunity
Present opportunity to the Diaspora
Present opportunity to the Diaspora
Those intrested can form an investment club
ADDI Offices in coordination with a local private sector partner in each country will facilitate smoth transition and implementation of the projects
All projects in each country must have at least one African Diaspora from that country
Each opportunity will have its own board and management structure
ADDH Current Projects
Wakanda City of Return Cape Coast Ghana
Trans Africa Value Corridor
African Diaspora -International Savings Bank in Antigua
Several mining opportunities
Several Hotel Opportunities
Several Manufacturing opportunities
ADDH Investment Clubs
These clubs will have investment projects that focus on funding hospitals, hotels, technology, construction, agriculture, and anything that will promote the advancement and growth on the continent of Africa.
ADDH investment clubs encourage all those of African descent and friends of Africa to come together and collaborate ideas in order to build the Africa we want.
More Information
If you have any questions about ADDH and becoming a part of our investment clubs, please send us a message.
---